Picture Book New Releases
I'm a Gnome!
by Jessica Peill-Meininghaus (Author), Poly Bernatene (Illustrator)
Join Gnome (that's spelled G-N-O-M-E–don't ask why the G is silent!) as he travels through the magical forest to attend the annual Gnome Festival.
Along the way he encounters elves, dwarves, trolls, and fairies. But don't be mistaken. He is NOTHING like those magical creatures. Well, maybe he is . . . but only a little bit!
When Gnome finally arrives at the festival, he realizes that all the traits he thought made gnomes different from the others actually made them alike–and that's just fine.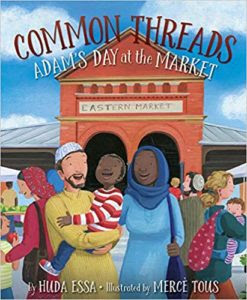 Common Threads: Adam's Day at the Market
by Huda Essa (Author), Mercè Tous (Illustrator)
Adam and his family spend an exciting day at the colorful and bustling Eastern Market. But when Adam gets briefly separated from Mom and Dad, he mistakes a friendly, diverse cast of characters for his parents in their traditional Muslim clothing–and shows that we all have more in common than you might think. This nearly-wordless picture book celebrates diversity and community in vibrant, dynamic art.
As Warm As the Sun
by Kate McMullan (Author), Jim McMullan (Illustrator)
French bulldogs Toby and Pinkie learn to live together and form a heartwarming friendship.
Toby loves basking in the morning sun, snuggling in a lap in the afternoon, and toasting his tummy by the fireside at night, but somehow his warm spots never last. What Toby wants more than anything is to find something as warm as the sun that never fades or fizzles.
Then one day, Pinkie comes along, and she starts hogging all of Toby's favorite places. Toby feels alone and forgotten, and slinks away. . . but Pinkie follows him, determined to prove that she is the something as warm as the sun Toby has been looking for all along.
If I Built a School
by Chris Van Dusen (Author, Illustrator)
If Jack built a school, there would be hover desks and pop-up textbooks, skydiving wind tunnels and a trampoline basketball court in the gym, a robo-chef to serve lunch in the cafeteria, field trips to Mars, and a whole lot more. The inventive boy who described his ideal car and house in previous books is dreaming even bigger this time.
Riding a Donkey Backwards: Wise and Foolish Tales of Mulla Nasruddin
by Sean Taylor (Author), Khayaal Theatre Company (Author), Shirin Adl (Illustrator)
Would you like to know how a thief can turn into a donkey? Whether a cow can climb a pole? Or why you should spoon yogurt into a lake? Mulla Nasruddin knows all the answers, and he might also tell you why he rides his donkey backwards. Whether in the guise of an imam in a mosque or a beggar in the street, this trickster is never at a loss for a rejoinder, though it may leave you scratching your head, rolling your eyes, or laughing out loud. Enjoy twenty-one classic tales about a much-loved character from Muslim cultures in a book packed with jokes, riddles, and wisdom and paired with vibrant, theatrical illustrations.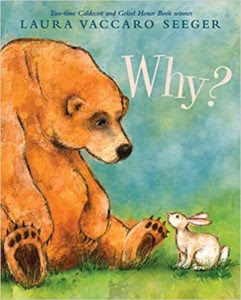 Why?
by Laura Vaccaro Seeger (Author, Illustrator)
Bear just wants to water his flowers, but Rabbit needs to know: why? Bear is looking forward to a peaceful night of stargazing, but all Rabbit cares about is: why?
As the two friends spend time together through spring, summer, and into fall, Rabbit persistently and simply asks Bear why, encouraging the reader to figure out for themselves the reason for each question that Bear patiently answers, over and over again. . . until there's a question that he has no answer for.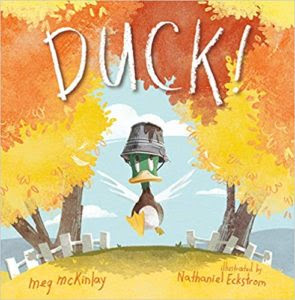 DUCK!
by Meg McKinlay (Author), Nathaniel Eckstrom (Illustrator)
In this funny nod to Chicken Little, a quiet afternoon on the farm might be the scene of a barnyard disaster waiting to happen.
When Duck runs around the farm shouting "DUCK!" to the other animals, they grow exasperated as they haughtily explain to Duck which animal is which. Unfortunately, something is falling from the sky. But perhaps "DUCK!" isn't the best warning. Perhaps what Duck should have said is . . . "RUN!"
Arnica, the Duck Princess
by Ervin Lazar (Author), Jacqueline Molnar (Illustrator), Anna Bentley (Translator)
Princess Arnica is so sweet and gentle that when she smiles even wolves and bears forget their fierceness. Everyone loves her, but she loves only Poor Johnny. Luckily, he loves her too, and even more luckily she has a very sensible king for a father, who is happy for her to marry whomever her heart desires. So, no problems then?
Well, maybe just one – The Witch with a Hundred Faces has cast a spell on Arnica and Johnny which means that one of them, at any one time, must always be a duck, and the other human! Who can help them? Only the Seven-headed Fairy. Will they be able to find her? You'll just have to read the book and find out!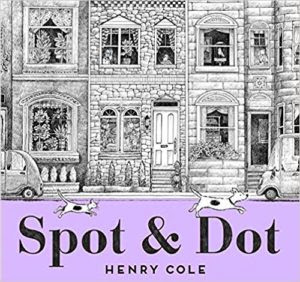 Spot & Dot
by Henry Cole (Author, Illustrator)
In Henry Cole's vivid wordless picture book Spot, the Cat, readers joined Spot on a journey through a city that began with him following a bird outside his window.
This time, a dog named Dot draws Spot from his window. As we follow Spot and Dot on their wordless journey, we quickly realize that it's Dot the dog who is missing this time, and Spot is trying to get her back home. We follow these two on a different journey through the city as they weave in and out of a bakery, a library, a busy park, and more. And with a surprise twist at the end, we realize that "home" for both cat and dog was never very far away.